Gem & Mineral Club | Dying Art Collection
Exploring the makerspaces of the elderly in rural Arizona.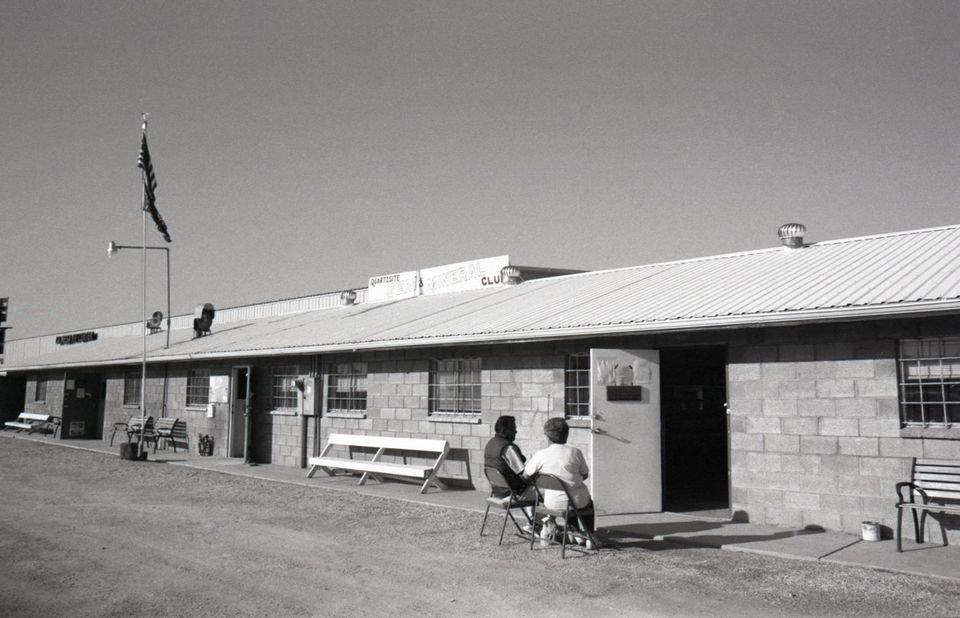 Nestled just beside Interstate 10 between Phoenix and the California state line is a long cinder block building, built during a decade when bare-bones structures without regard for unnecessary architectural embellishments, which serves as the home to the Quartzsite Gem and Mineral Club. In 2010, I joined the club to learn the dying art of lapidary, aka rock polishing. As one of the youngest members of the club, I found myself surrounded by wise elders steeped in the arts of working with stones and silver.
The volume of knowledge for this craft that lived within these walls and thrived every winter as the snowbirds wandered to Quartzsite for swap meets and RV gatherings was vast and deep. My membership at the club was my first hands-on experience with a makerspace, and it was run by some of the most meticulous elders I'd ever met. The opening image in this first collection of Dying Art explores the nuances and elders who spent their days playing with rocks and making art.
Sitting outside the building in the desert sunshine is the opal master teaching a student how to identify and isolate the beautiful components of an opal so they can create a plan to polish the stone so the beauty is revealed and not destroyed. Polishing an opal takes patience and precision, for if one polishes too long or with a harsh diamond wheel, the beautiful pocket of luminescence is sanded away.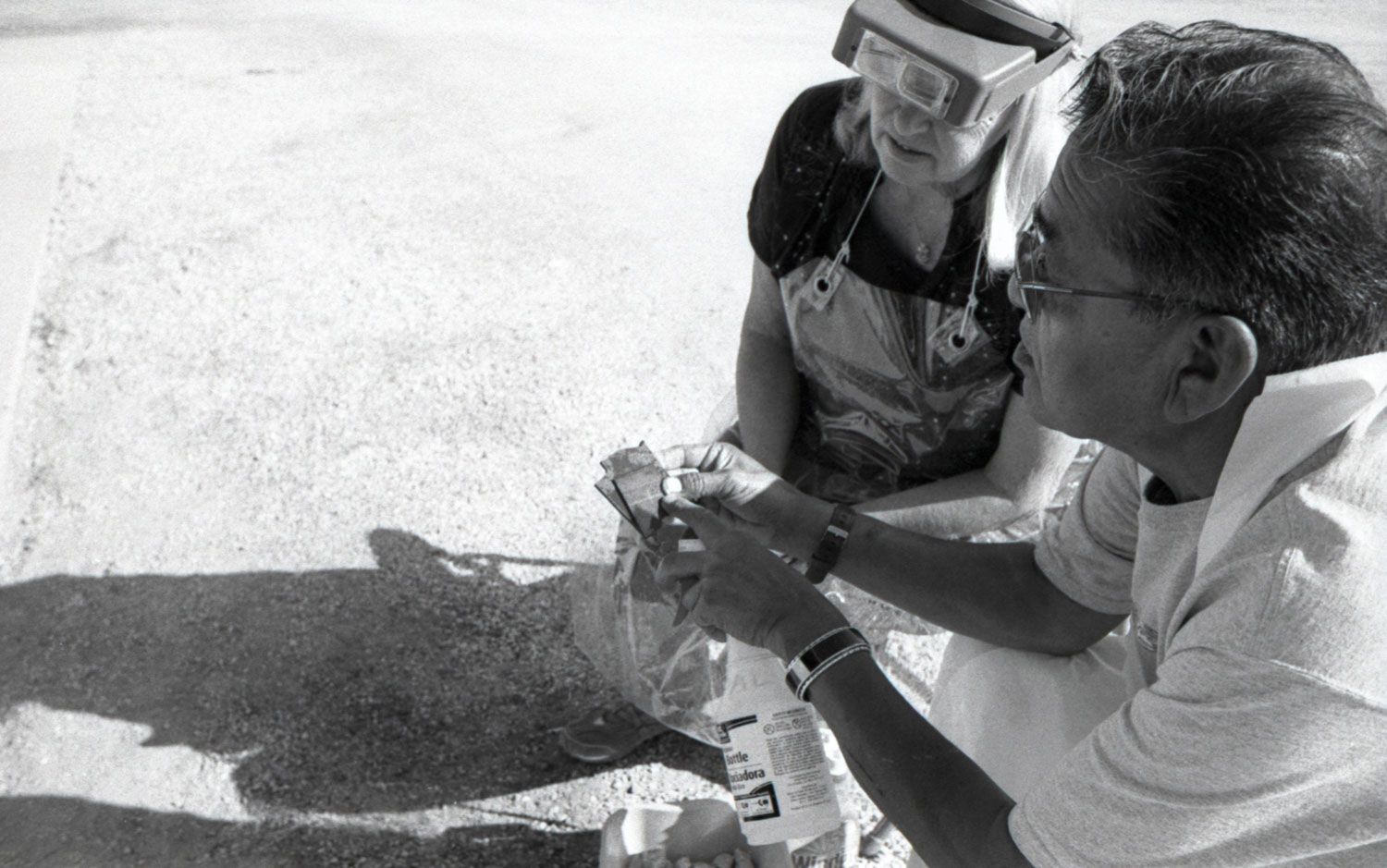 A special opal polishing room exists in the club, comprised of specialized wheels designed to allow the artist to gently bring the beauty of the stone to life through strategic polishing. The opal master, although I'm sure he has a different title, is usually on-sight to help members bring these stones to life.
Within this indiscriminate building, one that many of us would simply ignore if we passed it on the highway, exists specialized labs for silversmithing, cutting large rocks, trimming down rock slabs, polishing rocks and opals, faceting gemstones and dye casting metals. Membership back then was $15 per year, using the makerspace was $1 per session donation and the coffee was always hot and cost 0.25 cents.
---
Dying Art is a deeper look at the elderly makerspaces in Quartzsite Arizona during the winter of 2010. These images show a simpler time. A time before smart phones rested in everyone's pockets. A time before identity politics and weaponized algorithms warped the elderly population's perception of the rapidly changing world around them. A time before this generation internalized a mass media machine designed to keep them engrossed in fear of the "other" and of the unknown. This generation entered the world during or just before the destitution of the Great Depression and left the world during a time of complete fear and hatred spurred by late stage capitalism and the politicians seeking unfettered power.
I look at these images and I am filled with a sense of sadness at the bitter-sweetness of it all. During my last few visits to this town at the end of the Trump administration, I could not enter these makerspaces anymore. The town, and a majority of its snowbirds, fell under the spell of Qanon and the winter rallies which were once filled with rock swaps and antique thrifting were now filled with imported cheap goods from China and an overabundance of tents selling Trump and Qanon schwag. The town itself felt unstable, unsafe and my elders, family and friends, regurgitated the talking points of hatred and racism that spent most of their days consuming on cable news channels.
So much was lost during the Trump years and the pandemic, but the passing of so many elderly filled with the rhetoric of an authoritarian regime determined to destroy progress and equality is one of the tragic losses that we rarely ever talk about. I don't blame this generation as much as I blame the media and the centralized social media platforms that weaponized disinformation to separate communities and make democracy a thought of the past. They succeeded and our elderly paid a very high price. My only hope is that we can rectify the damage by ensuring that the mistakes and destruction of web2 are not allowed to replicate in web3. That's on us as stewards, builders, makers and creators in this ecosystem. We must ensure compassion is built into the code that powers our technology so we don't have another generation completely lost to the ills of algorithms and the politicians who weaponize them.
---
Dying Art is minted on Polygon using the Highlight platform with NFTs embedded into essays here on Paragraph. Part One is the first collection in a series of two and will contain editions of 25, 10, 5 and 1 of 1s. The 1 of 1s will only be mintable by those who have collected previous NFTs in the collection (or have collected previous art from my other collections— previous collectors will receive a Dying Art Collection NFT via airdrop). Prices are set in MATIC and will range from 45 Matic to 450 Matic.
All images were shot on Ilford Delta and Kodak TriX black and white film on my trusty 1V Canon film camera during the winter of 2010. The images were scanned in 2023 and are either 2400 or 3200 DPI, so they are printable up to 20x24 inches and each NFT collected come with complete Personal Use rights, so collectors can print for their own personal use.
Images were edited under the premise that if I couldn't have done the edit physically in the darkroom— which is how I worked for the first 10 years of my photographic career— then I wouldn't do the edit in Photoshop. Images were adjusted for contrast, dodged and burned in certain spots and had dust spots removed. I did leave some of the actual film anomalies in the images that contain them as a kind of homage to the analogue age and little Easter eggs of imperfection that can only be created by shooting on film and processing film in the darkroom.
Proceeds from this collection support my work in the impactDAO ecosystem and my academic work studying and archiving wisdom traditions through decentralization. Learn more about my work at the About link at the top of this page.
---
Proceeds from my NFT collections support my work in the public goods impactDAO ecosystem working to restore local media through decentralization at JournoDAO and my academic work studying and archiving wisdom traditions through decentralization.